Growth at COR Construction Services, Inc.!! COR is pleased to announce the hiring of three additional highly valued Team Members: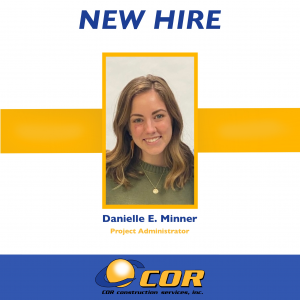 Danielle E. Minner – 2019 Graduate of Messiah College, Danielle Joins COR as a Project Administrator – Danielle brings to COR a strong work ethic and urgency with great communication and dedication with a highly organized approach to each day. Danielle is a welcomed complement to our Great Team here at COR and we are excited for her Bright Future here at COR. Great to have you on our Team here at COR Danielle.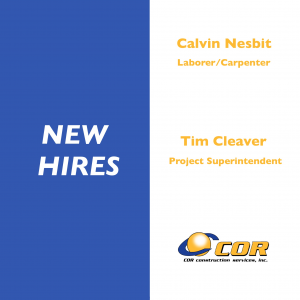 Calvin Nesbit (Laborer/Carpenter) 
Calvin brings a great attitude to our Team here at COR and we are thankful for more younger team members who have a desire to grow in their career in the construction industry. Calvin has a bright future here at COR and we look forward to Calvin growing with COR into the future. Great to have you on our Team Calvin!!
Tim Cleaver (Project Superintendent)
Tim is a welcomed addition to COR and a highly skilled craftsman. He brings a wealth of great experience with a desire to serve and provide the highest level of quality on our Projects. He is taking great care of COR's clients, and we are thankful to have Tim on our Great Caring Team. Great to have you on our Team Tim !!